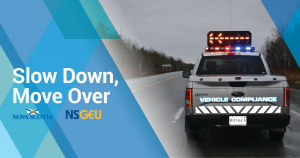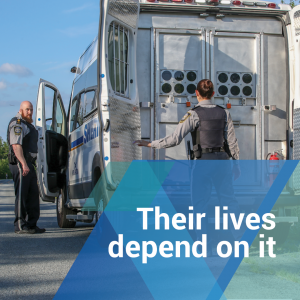 Officially launched in advance of the Canada Day weekend in 2018, our joint safety awareness campaign "Slow Down, Move Over" continues this year. This social media campaign is in partnership with the Public Service Commission and it raises awareness of the need to slow down and move over for public service vehicles with flashing lights flashing at the side of the road. Our messages feature Conservation Officers, Deputy Sheriffs, Motor Vehicle Officers, and Forestry Technicians who fight wildfires. It uses the Twitter hashtags, #SlowDownMoveOver and #OurLivesDependonit.
The NSGEU is pleased to partner with the Public Service Commission on this important campaign. In a press release issued at the launch of the campaign in 2018, NSGEU President Jason MacLean said, "We are asking the public to drive with awareness and if they see a vehicle with lights at the side of the road, to please slow down and move over. These roads are their workplaces and we all have a responsibility to keep them safe." Public Service Commissioner Laura Lee Langley said, "We're happy to partner with the NSGEU to bring attention to an issue that is important to us both – keeping workers safe." "People already know to move over for emergency vehicles, but this campaign serves as a reminder that many people's work can take them to the side of a busy highway and their lives depend on drivers taking caution."
You can view the initial joint NSGEU/Public Service Commission press release here.
You can view the government's SlowDownMoveOver page here.
For information from the RCMP about your obligations see this recent post in Haligonia.ca https://bit.ly/2ZR7sko