September 7, 2022
ECE Day of Action – Information for NSGEU Members

Early Childhood Educators working in the private sector are planning a Day of Action tomorrow to try and force government to finally release their long-awaited compensation framework for these workers. This Day of Action is not an event being organized by the NSGEU as part of our ongoing conciliation/bargaining for our members working on the South Shore or Annapolis Valley.
However, we recognize that many of our members wish to show support and solidarity for their colleagues working in the private sector, and we would encourage you to join any information pickets that are taking place in your community outside of your work hours (before and after school, or on a lunch break).
We've also designed a social media graphic for you to share on social media to show your support, as well. Please visit www.facebook.com/nsgeu and share using #ecescantwait (click on the image to link to the Facebook post).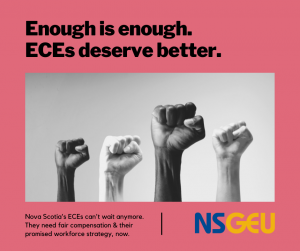 Related Articles