May 1, 2018
Watch for the NSGEU strike vote van at the HRM office Tues., May 1, and Thurs. May 3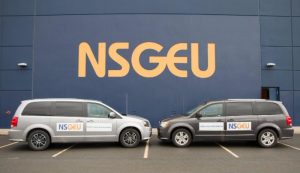 Dear Local 55, WCB members working in the HRM office,
An NSGEU strike vote information van will be visiting your workplace on Tuesday, May 1st from 11:30 a.m. to 1 p.m. & Thurs., May 3, from 11:30 a.m. to 1 p.m.
Come by to chat, pick up some NSGEU swag, and help us earn a strong strike vote!
If you or your colleagues are not receiving strike vote information, it means we do not have your proper contact information. Please call the NSGEU at 902-424-4063 or toll free at 1-877-556-7438 or email us at inquiry@nsgeu.ca in order to ensure you receive all future strike related mail outs.
Related Articles