June 19, 2018
Welcome Local 130 to NSGEU
On June 1, 2018 employees of Shannex – Orchard Court voted overwhelmingly to join the NSGEU. Orchard Court is a long term care facility located in Kentville. The over 30,000 NSGEU members proudly welcome the employees of Orchard Court to our union and we look forward to working in solidarity to continue to add democracy and respect to the work place.
Please join us in welcoming Local 130 President Mitch (Stevan) Smardon, Vice President Gillian Gesnor, Secretary Tara Kaiser, Treasurer Angie Dill, Chief Steward Helen Nickerson and their local members to the NSGEU.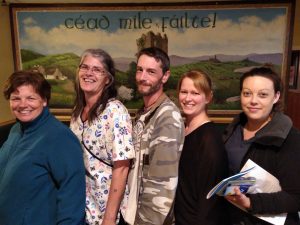 Photo attached: L to R: Treasurer, Chief Steward, President, Secretary, Vice President.
Related Articles
July 23, 2021

The NSGEU is extending a warm welcome to our newest members, Local 161, The Municipality of the County of Richmond...