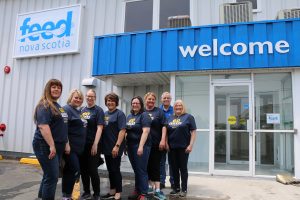 In honour of the NSGEU's 60th anniversary the Women's Issues Committee has pledged to volunteer 60 hours for charity. They kicked off their work at Feed Nova Scotia on May 25th, where the committee headed to the new FNS office and helped sort donated food.
NSGEU has been supporting Feed Nova Scotia for over a decade. At the 2016 convention members voted to donate $14,000 a year to support the organization. Members of the Committee also pooled their toonies to provide 60 meals for $20.00.
The Women's Committee presented a cheque to Feed NS from Local 78 B, Drivers, Monitors, and Mechanics of Stock Transportation. This provided an additional 360 meals to families throughout Nova Scotia.
Members of the Women's Issues Committee volunteer their services at Feed NS on May, 25th. Left to right: Christine Rushton, Michelle Jardine, Karen Grandy, 1st VP Sandra Mullen, Natalie Hillier, Tracy Goves, Brian Kelly with Feed NS, and Susan Macumber.