November 3, 2016
Demonstrate for PTSD Legislation on Thursday, Nov. 10 at noon
Demonstrate for PTSD Legislation on Thursday, Nov. 10 at noon on the corner of Granville and George St. behind Province House a.k.a. the Legislature in Halifax.
The NSGEU is joining with the Union of Canadian Correctional Officers (UCCO) to raise awareness for the need for amendments to the WCB Act nationally and provincially to include automatic coverage of PTSD for first responders.
Correctional Officers are one of many occupations listed in proposed PTSD legislation, tabled by the NDP for the second time on Oct. 14, 2016. The Bill was originally introduced by the NDP on Oct. 1, 2014.
Other occupations in the legislation are: an agent, as defined in the Children and Family Services Act; a duly qualified medical practitioner; a firefighter; a person employed at a communications centre for the dispatch of ambulances or emergency responders; a police officer; a registered nurse; a registered paramedic; a registered pre-hospital first responder; or a social worker.
Despite mounting evidence of the lasting impact of PTSD and the need for timely treatment, this government has not moved on this issue.
There will be a rally and demonstration next Thursday, November 10th at noon behind Province House in Halifax on the corner of Granville and Georges St.
To give the public a sense of what work life is like in a Correctional Facility, UCCO has designed a giant truck as a jail. The truck will be at the demonstration on Thursday and we will be inviting all MLAs to spend some time in it. It will also be open to the public.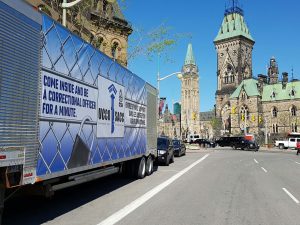 Please come out and support our members by attending and bring your family and friends.
Related Articles