March 27, 2015
CANCELLED-Halifax Rally Against Racism
Cancelled due to weather!
Halifax Rally Against Racism
Rescheduled to: Saturday, March 28 at 1:30 at Grand Parade
The Halifax-Dartmouth & District Labour Council invites local unions, social movement activists, and the general public to a rally to mark the International Day for the Elimination of Racial Discrimination in Halifax rescheduled to be on Saturday, March 28 at 1:30 pm at Grand Parade in front of City Hall.
Nova Scotia is known as the 'Mississippi of the North' for its lack of action addressing racism in our cities and communities. The African Nova Scotian, First Nations and immigrant communities continue to face daily racism at work, in our schools, and in the broader community.
Racism is an issue the Labour Movement has been working to address for sometime. Collective agreements make racial discrimination at work illegal and promote a diverse workforce. Each of our unions now have active anti-racist, human rights, and diversity caucuses to address racism within our own structures as well.
Join us on Saturday, March 28th at 1:30 pm to call for a province-wide action plan to address racism including:
An end to discriminatory hiring practices in the private sector
Action to address the wage gap between white workers and African Nova Scotian and First Nation workers
Increased cultural awareness and programming in our schools and universities
Reform of the criminal justice and prison system
Action on historic land claims
More support for new immigrants
For more information contact:
Suzanne MacNeil, Vice President of Human Rights/Anti-Racism for the Labour Council, suzanne@suzannemacneil.ca
You can download the NSGEU's Poster for the Day for the Elimination of Racial Discrimination!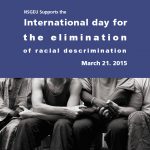 Related Articles