January 23, 2017
Enter to Win a Dream Vacation!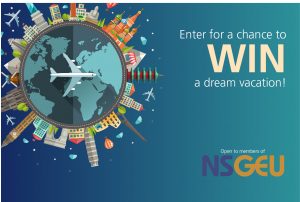 Good morning,
Today, the NSGEU is launching an exciting contest for our members: we are giving away a $3,000 travel voucher with Air Canada Vacations!
The purpose of this contest is to allow us to build our connections with our members, and ensure we have the most accurate, up-to-date contact information for you, so we can reach you with information that is important to you.
The entry form will collect your name, local number, mailing address, and PERSONAL email address, as well as give you the opportunity to earn extra entries by providing us with a cell phone number, or following us on Twitter and visiting our Facebook page.
Please take a moment to carefully review the terms & conditions of the contest before entering to ensure your entry is valid:
This contest is open only to members of the Nova Scotia Government & General Employees Union (NSGEU) who are signed and in good standing at the time of the draw. Each member can enter the contest only once, and can earn up to SEVEN entries by submitting the following ACCURATE pieces of information:
1) Your first & last name (mandatory);
2) Your current mailing address (mandatory);
3) Your NSGEU Local # (mandatory);
4) Your personal, non-work email address (mandatory);
5) Your personal cell phone number;
6) Following NSGEU on Twitter;
7) Visiting our Facebook page.
Current sitting NSGEU board members are not eligible to participate. People who attempt to enter the contest more than once will be disqualified. The NSGEU Local # you submit must be correct (if unsure, please verify by checking /local-page or contacting us at 902-424-4063 before submitting your entry). The personal email address you provide the union with must be a valid email address: winners will ONLY be notified via this personal email address.
A winner will be drawn once the contest has concluded on March 31st, 2017. If prize is unclaimed after 1 (one) week, the winner will be disqualified and another entry will be drawn.
The grand prize, a $3,000 travel voucher from Air Canada Vacations, must be booked through Susan Williams at Trip Central. The prize is not exchangeable or redeemable for cash value.
Should the winner fail to meet any of the above rules and conditions, their entry will be disqualified.
You can visit /enter-to-win-a-dream-vacation-with-the-nsgeu/ to enter.
Good luck!
Related Articles