December 16, 2019
Union Matters Podcast: The Pink Patch Project with guest Kevin Hurst

Union Matters host Deedee Slye interviews Deputy Sheriff Kevin Hurst about the Pink Patch Project which brings awareness to and support for Breast Cancer. In the podcast, Kevin discusses why they embarked on this initiative (the first in Canada) and how he created our distinctly Nova Scotia pink patch.. If you are interested in purchasing a patch in support of breast cancer awareness, email Kevin at kevin.hurst@novascotia.ca.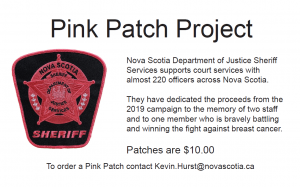 I'm Deedee Slye, I'm your host today. Today we are doing an episode on the Pink Patch Project. We are here with Kevin Hurst. He is a Deputy Sheriff and he works with the Provincial Transportation Division. Can you tell me what you do?
Kevin
Essentially I work out of the jail and our section is responsible for the transportation of persons in custody to all the courthouses in the province, jails in the province, and Federal institutions.
So we go all across Nova Scotia, sometimes into Renous in New Brunswick, sometimes into Prince Edward Island. We also do flights across Canada.
Deedee
How long have you been doing that?
Kevin
I've been with the Department for 12 years. I'm on my 6th year with the Transport section.
Deedee
What made you decide to be a Deputy Sheriff?
Kevin
I worked at another job that involved shift work and It wasn't for me anymore. I had been doing it for about 20 years and when you get off at 7 in the morning and you are awake at 8 and you get off at 10 in the morning…sleeping in the daytime is just not for me anymore. So I said I need to look for something more 9-5 with more hours in the daytime because I just can't do the night shifts much any more.
Deedee
Luckily they have that kind of work in the Transportation Division
Kevin
Right, we are not really Mon-Fri 9-5 but we are kinda 7 days a week. Some mornings I start at 5:30 in the morning but it is way better than working strictly nights.
Deedee
Right. Good. When you say jail that would be…
Kevin
That would be the Correctional Facility in Burnside, CNS
Deedee
Tell us a little bit about the Pink Patch Project
Kevin
So the Pink Patch Project originated in the US. It started in 2013 with the Seal Beach Police Department in Southern California and they decided they were going to wear some pink patches or turn their uniform patches pink during the month of October to bring awareness to breast cancer. Since that time, it has grown immensely in the United States. There are 43 states that have Departments that partake in this. There are also International Departments – one in Spain, one in France, and I'm proud to say that the Nova Scotia Sheriff's Department is the first in Canada.
Deedee
And what made you do this?
Kevin
Unfortunately our Department has been touched by breast cancer. We have had two long-serving members who have fought the battle and unfortunately didn't win. We currently have another long-serving member who is fighting breast cancer right now and my understanding from talking to her is that it is going really well. But I thought it would be a great way to show our support for our co-workers and let them know that hey, you know what, although you are fighting it, we are there for you, we want to show our support and you know if you need anything, you know where we are at and I thought it would be a neat idea to do the Pink Patch Project.
Deedee
They are really beautiful. They are in pink with a black background and a pink sheriffs star along with the outline of the entire badge. They are quite beautiful. Can anybody help with this fundraiser? This initiative? Or is it only for Department of Justice employees or Sheriffs?
Kevin
I started this last June and just kind of thought about it. Obviously with anything in government it takes a long time to get anything approved. The Province of Nova Scotia owns this badge so there was an approval process we had to go through in order to change it. I worked with John at Nova Trophy and we worked on 4 or 5 different versions of the badge to see what the members would like and what the government would approve and whether there would be the proper information on it.  It took a while. It really came in to be the last week or two weeks of September. Unfortunately this kinda put us behind the 8 ball because we had to order patches and unfortunately not all the members got theirs in time to be able to wear them. But next year, they will have them, so once October rolls around they are ready to go. But anyone can purchase these right now. I've had agencies in the states who have seen us on the Pink Patch website who have said, hey, I collect these patches and I would like to buy these from you – to support you. Anyone who is local who wants to buy a patch, people in corrections have bought them,  know other officers have bought them to trade them. As we go to other services, like the memorial, or we attend the National Peace Officer Memorial in Ottawa in the fall – it's a great thing to be able to trade patches. And where this is the first one in Canada it is unique because no one else in Canada has a pink patch. So if there are members out there who collect these kinds of things or is interested in buying one, they can contact me kevin.hurst@novascotia.ca and they are $10 per patch.
Deedee
There are no worries about selling the patches to people who aren't officers?
Kevin
No I don't think. If we were to see them to the public per se like just go to… In the states, the LA County Sheriff's Department sell these patches at Dodger's stadium at the baseball games and at sporting events. It's a huge deal down there.  We are not doing something like that. And we assume or we hope that anyone who buys these would be buying them as a collector.
Deedee
We are going to put one in our display case downstairs right by the office on the bottom floor.
Kevin
Thank you for everyone who donated. We have had those who didn't buy the patch but just donated and our local donated some money.
Deedee
You can bring this to convention where we support initiatives like this. We do have a cancer fund which you may or may not know of.
Kevin
I saw that when I came in – yes.
Deedee
Yes, so if you as a member, or a family member are going through cancer treatment, this fund helps with your travel costs in and out of the City – parking or whatever…it covers those kinds of costs.
Kevin
That's a great initiative.
Deedee
Yeah. That's from the Women's Committee. That's the kind of thing that is brought forward at Convention as a collective and through the power of all of our membership which is ov3er 31,000 members that we have quite a bit of money that we can help the community with. Convention is a really good time for this too.
Kevin
That's a good idea and when it is time for convention I will get in touch with somebody.
Deedee
Yeah, well maybe you would like to be a delegate yourself.
Kevin
(laughs) Well, I don't really have time for that but thanks anyway.
Deedee
We want to thank you for your work on this initiative and really proud you are a member doing this and we wanted to give our members some awareness of what you are doing, amplify your message and bring it to more people. Thank you again Kevin for coming here for this podcast and thank you for doing the work you are doing.
Kevin
Thank you Deedee, my pleasure.
Related Articles