July 29, 2013
Civil Service Tentative Agreement Ratified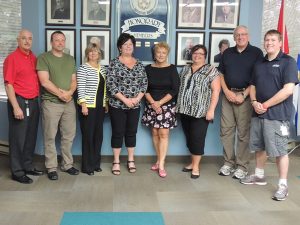 (NSGEU's Union Negotiating Committee for the Civil Service)
NSGEU members working for the Nova Scotia Civil Service ratified their tentative agreement this evening by 93.8%.
The tentative agreement was reached between the Nova Scotia Government and General Employees Union and the Public Service Commission on July 9.
"We are pleased to have a new agreement for the over 8,000 women and men who provide valuable public services to Nova Scotians throughout the province," says Joan Jessome, President of the Nova Scotia Government & Employees Union (NSGEU). "We want to thank the bargaining committee for all of their hard work reaching this agreement."
The new agreement will run from April 1, 2012 – March 31, 2015 and includes a wage increase of 2% as of April 1, 2012, 2.5% on April 1, 2013, and 3% on April 1, 2014.
Members who work in the civil service include: administrative professionals, forest technicians, geologists, child-protection workers, food inspectors, fisheries technicians, accountants, planners, clerks, architects, youth workers, tourism workers, archives and museum staff, correctional officers, fisheries and agricultural technicians, vehicle-compliance officers, and many more.
Related Articles