September 15, 2017
Happy Pride in Yarmouth – Sat. Sept. 16
Happy Pride Day to all members in the Yarmouth region!!
Any NSGEU members that would like to participate in the pride parade on Saturday, September 16th, please meet us at the NSGEU building in Yarmouth, 59 Hawthorne St. at noon.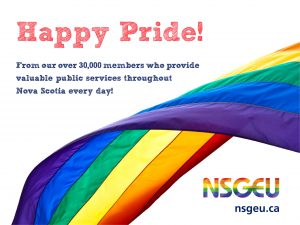 Related Articles
January 17, 2020

Good afternoon, I am reaching out to our members to ask you all to please pay attention to the process...

January 7, 2020

Good afternoon, As you are aware, in the Fall, we received an important decision from Arbitrator Bruce Outhouse regarding the...

December 16, 2019

Union Matters host Deedee Slye interviews Deputy Sheriff Kevin Hurst about the Pink Patch Project which brings awareness to and...

November 15, 2019

It's "Sock It To Poverty" time! Every year, the NSGEU Human Rights Committee organizes a campaign called "Sock It To...

October 22, 2019

Dear NSGEU members, The Nova Scotia Crown Attorney's Association (NSCAA) and the government have been through bargaining and conciliation. On...

August 1, 2019

On Monday, the arbitrator assigned to the LPN reclassification process informed our legal counsel that his decision will not be...

July 9, 2019

Good morning, Thanks to the fearless advocacy of one of your fellow members, the Nova Scotia Health Authority has been...

July 8, 2019

Tune in to our latest Union Matters podcast – an interview with Patricia Wall – a navigator for the recently...