June 5, 2015
NSGEU Holds First Bargaining Conference for Acute Health Care Sector following the merger of the Health Authorities with Bill 69
NSGEU has held its first historic Bargaining Conference for the acute health care sector over the last two days, June 4 and 5. Members came from all corners of the province and all sectors of acute health care (health care; support; clerical/administrative professionals; and nursing) to discuss issues relating to bargaining like essential service legislation, job security, job posting practices, sick leave benefits and more. Bargaining Committee members from each sector elected their Bargaining Council Committee representatives who will sit at the table alongside members from Unifor, NSNU, and CUPE in the new bargaining structure established by government legislation (Bill 69).
The next step for these new Committees involves gathering information from the membership about bargaining priorities.
Clerical/Administrative Professionals

Robyn Goodwin – Local 190, Health Information Clerk, Yarmouth Hospital; Bill Zebedee – Local 1246, RN Professional Development Centre, Bethune Building, VG site; Heather Tucker – Local 1246, Health Records Indexing Registration Clerk, Hants Community Hospital in Windsor; Michelle Dockrill- Local 104, Health Promotion and Prevention in Addiction Services/Mental Health, Cape Breton Regional Hospital; Tanya Hersey – Local 123, Clerical Coordinator in Diagnostic Imaging, IWK; Tammy Young – Local 1246, Administrative professional in Addictions & Mental Health, NS Hospital.
Nursing

Joanne Fairfax – Local 195, Public Health, Western Zone; Rochelle Ryan – Local 101, Outpatient lab, IWK; Kerri Webster-MacIsaac – Local 101, ICU VG site;  Trina Maugher – Local 101, Hemo-dialysis, Dixon site; Trish MacDonald – Local 101, 4.1, HI site; Shawna Boudreau – Local 101, Diabetes Management Coordinator, Central Zone; Janice Nicholson – Local 101, ICU HI site
Health Care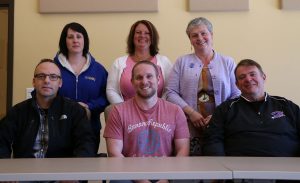 Allan LaPierre – Local 100, Critical Care Paramedic, Emergency Department, Halifax Infirmary; Cindy Smith MacDonald – Local 100, Occupational Therapy Assistant at Connections Halifax, Mental Health & Addictions Program; Donna Kline – Local 122, Medical Laboratory Technologist, IWK; Patrick Daigle – Local 100, Clinical Team Lead in Addictions Program, Dartmouth Area Office; Monika Harvey – Local 193, Care Coordinator Continuing Care, rural Cumberland County; Peter Perry – Local 122, Anesthesia Assistant, Women's Periop. program, IWK.
Support Services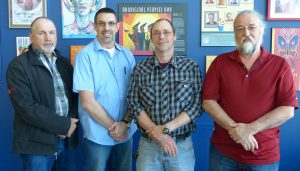 Robert Forbes – Local 119, Carpenter, NS Hospital & Dartmouth General; Fred Webster – Local 119, Equipment Repair Technician, HI site; Raymond Theriault – Local 119, Baker, VG site; Chris Collins – Local 100, Regional Tissue Bank Aid/Sterile Processing Tech, Mackenzie Building, VG site.
Related Articles