June 14, 2013
Over 75 attend rally during St.FX Board of Governors meeting today to protest job cuts
Antigonish – Members of NSGEU Local 88, support staff at St.FX, along with members of the CAW and St. FXAUT held a rally today with an estimated 75 people in attendance. They held the rally outside the St.FX Keating Centre during a meeting of the Board of Governors to protest job cuts at the university.
NSGEU Secretary-Treasurer, Darren McPhee,was on hand at the rally and did media interviews.
The NSGEU represents 132 members of the local who provide administrative, clerical, technical, and library services for St. F.X.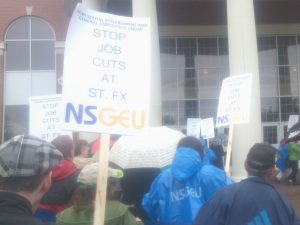 Related Articles